What we really DO is software.
Pixout ArtNet recorder software is written as modern web application which makes its platform independent for clients (PC, tablets, mobile devices). Recorded ArtNet data are grouped into cuelists, which could be switched on the fly. There is also possibility to change playing speed and intensity in real time. System architecture is highly modular which easily allows to extend functionality to support more input and output protocols.
We can customize any module to adopt for your business needs.
Our vision.
The main idea behind the scene is that you're getting partial control over lighting device without special knowledge: you could switch different cuelists, stop/play them, change play sequence, brightness, speed as well as monitor overall playing progress. If you're experienced tech guru you could use administration mode in order to get more control over system like viewing the log, creating new cuelists and effects, setting up network configuration and much more.
ArtNet DMX recordering/playback
Cues grouping possibility
Cues Import/Export
Triggering ArtNet/GPIO/MIDI/Scheduler/HTTP
Intensivity/Speed control
User/Admin panels
Restore to default
REST API for integration with 3rd services
Display log info
Error reports
Automatic updates
iOS/Android application
Browsers support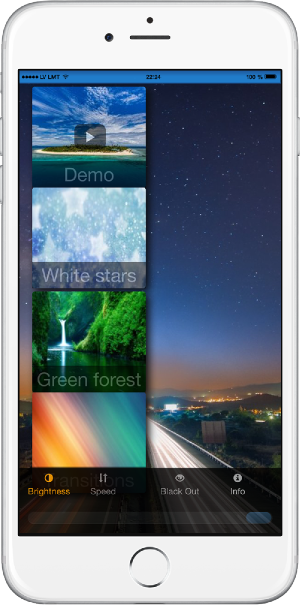 User panel on iOS iPhone 5s
ArtNet DMX recording
Broadcast/unicast
ArtNet DMX recorder allows to grab dynamic effects from software or media server hardware sent by broadcast/unicast and record it on the Pixout Controller SD flash. Recordered effects will be stored in cues.
The cue could be replayed in a loop as many time as you want. The cue output could be filtered to different IP targets. You can filter source universe to target IP or use broadcast mode by default.
Estimation record time
Overral amount of cues and cue lists limited only with SD flash size ( 8Gb and could be increased by demand ). At the moment we have limitation per one recorded cue. Maximal recorded length for one cue for 64 universe (30fps) is 15min. If you need to record very long cue more than 15min, please split that into two or more pieces.
Cues
Grouping
Cues could be grouped into cuelists from Admin panel. You can create as many cuelists as you want. When the cuelist replays its cues, it plays cues one by one repeatedly. At the moment the controller supports playing only one cuelist at the time.
Import/Export
For backup and restoring purpose you can export/import a cuelist archive into computer. The archive will consist all information and cues in compressed way.
Time scheduler
Schedule starts/stop time for every cuelist
Overall system
Restore to default settings
Restore to default settings at any time if accident is happened. All your changes will be discarded and device will be returned to factory initial status.
Automatic udates
The Pixout controller software updates automatically on start-up (if Wireless connection established and connected with global internet). System logs with technical information about device sent to our server to improve software quality and provide more informative, deep support.
External API
Pixout REST API allows to integrate the controller to any third party system. If you need to customize API for your business needs contact with us for further information.
Admin panel.
Admin panel allows to change system important settings, show logs and other stuff related to technical guy